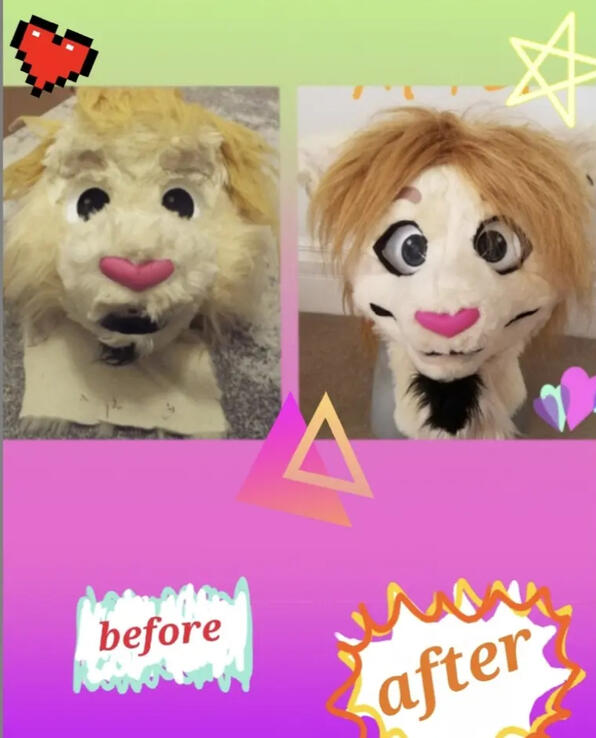 welcome to the world of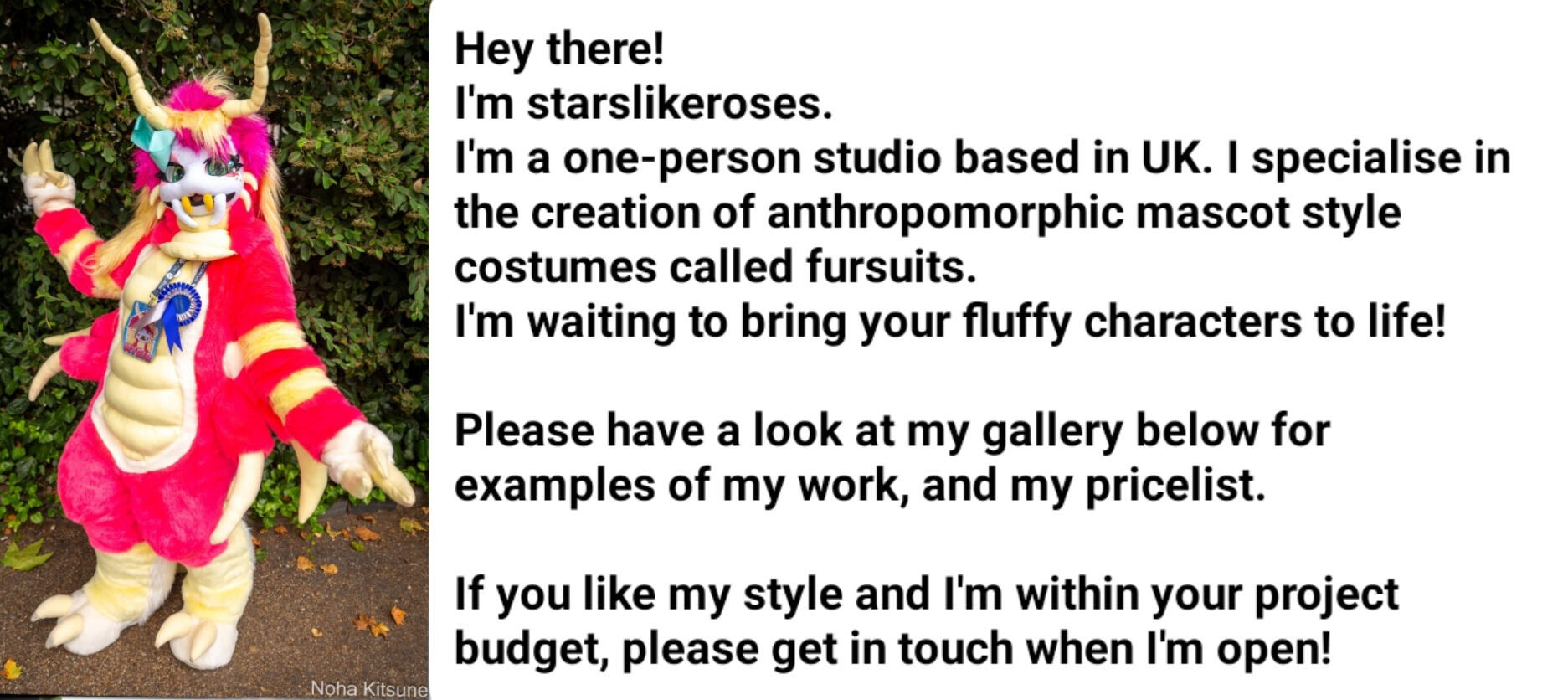 ---
maker of fursuits, costumes, props and artwork
---
scroll down for gallery
---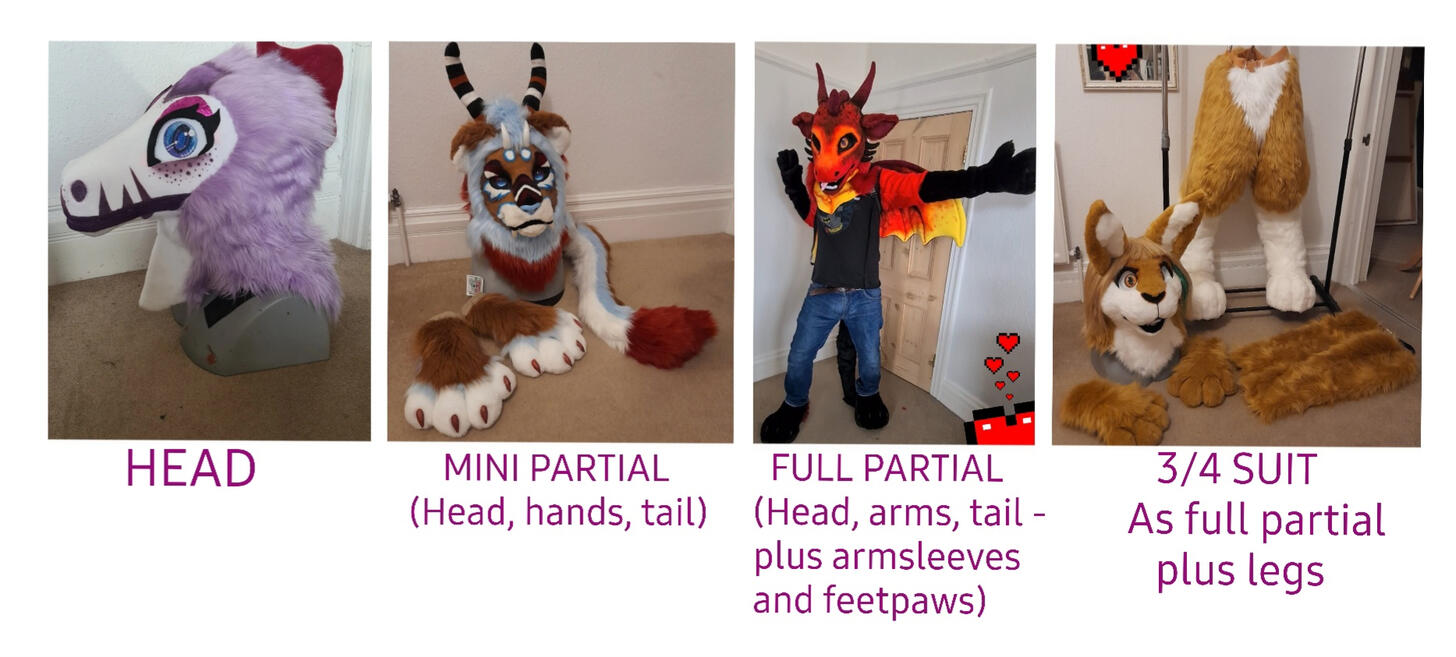 ---
commissions: CLOSED
quotes: CLOSED
Next open: AUGUST 2021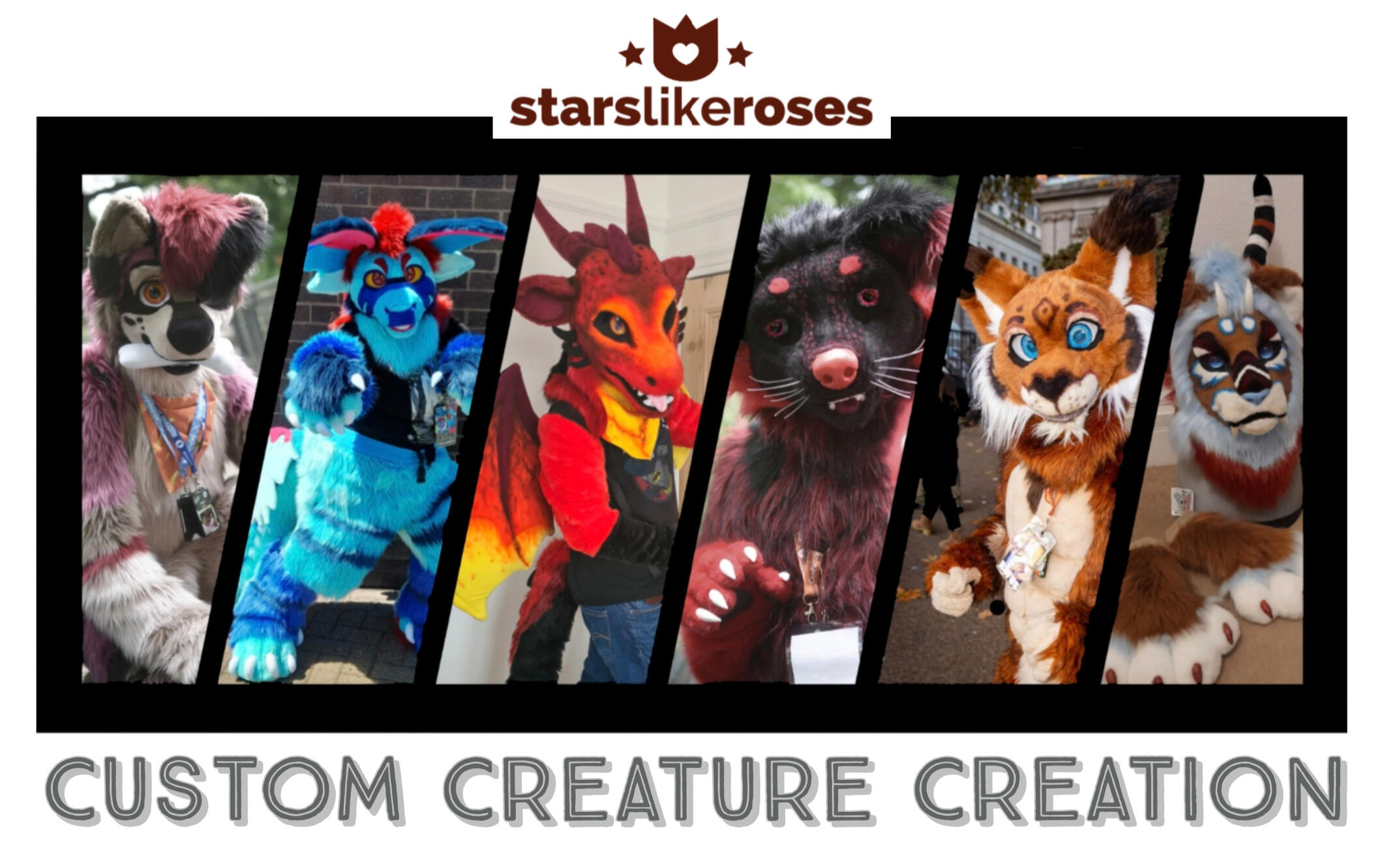 ---
useful links
---
WELCOME TO STARSLIKEROSES
Hello there!
SLR is a creative studio based in a tiny seaside town in England.
We specialise in the creation of fursuits - anthropomorphic mascot type costumes - and we are waiting to bring your fluffy characters to life.
With five years fursuit making experience, we pay close attention to detail, and work hard to capture the spirit and personality of our clients' designs.
We work with high quality materials and durable crafting techniques. We do not use real furs, and we are committed to reducing our environmental impact by becoming a 'zero waste' studio.
Here at SLR, we are always excited to take on new challenges and develop our creative skills, and we look forward to welcoming new clients into the starslikeroses family.
So, grab a cuppa, put your feet up and have a look at what we do....
---
Premades and other ready-made goodies in the shop:
---
GALLERY


Examples of completed fursuits by starslikeroses
---
SUIT OPTIONS AND PRICING
starslikeroses offers a range of suit options, from heads to digitigrade fullsuits and everything in between.
Prices listed are only guides and may increase subject to design complexity or extras

BASE PRICES

Head only: £650+
Mini partial: £1000+
Full partial: £1200+
3/4 planti suit: £1500+
3/4 digitigrade suit: £1700+
Planti fullsuit: £1850+
Digitigrade fullsuit: £2300+
Quote forms will become available when SLR is open for commissions. Link here will lead to quote form when SLR is open:
STANDARD FEATURES

⭐3D following eyes
⭐Static (slightly open) mouth (FROM 2021 SLR WILL NO LONGER MAKE MOVING JAW HEADS)
⭐Fully lined head
⭐Half-lined handpaws
⭐Plush hand pawpads
⭐Resin hand and feet claws
⭐Hemmed but unlined bodysuits (for coolness)
⭐Digi padding (can be removable or sewn in on request)
⭐Half-lined armsleeves
⭐Fully lined outdoor feetpaws
⭐Laminated badge artwork with any commission that includes a head
OPTIONAL EXTRAS
You can choose from a range of extra features to fully customise your SLR suit. Each extra comes at a charge and will be itemised on your quote form. If it isn't listed, we don't do it.
Here's what we can offer:
💕Horns / antlers / spikes
💕Hard or plush jawsets
💕Removable tongues
💕Light up eyes
💕Hair
💕Jewellery / piercings
💕Posable ears / tongues
💕Wings
💕Bodysuit spikes / horns
💕Light up facial features or tails
💕Mouth tails
💕Indoor feetpaws upgrade
💕Complex markings
💕Attached feetpaws
💕Attached handpaws
HEADBASES
SLR prefers to work with foam headbases. These are either carved or cast foam.
If you would like a resin or 3D printed head base, one can be purchased for your order.
---
FEEDBACK AND REVIEWS

(section currently under construction)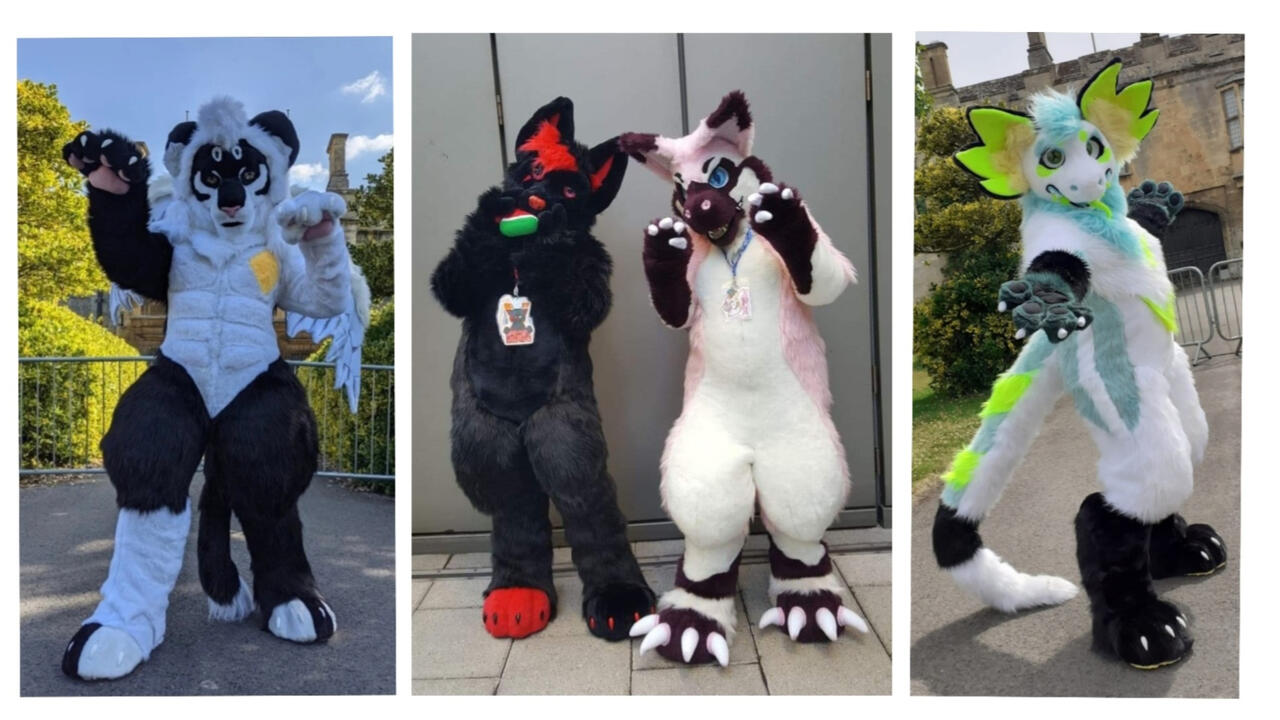 copyright 2021 starslikeroses
all costume work by Kerry Jones - trading as starslikeroses
all artworks by Amelia Richey
all artworks used with permission